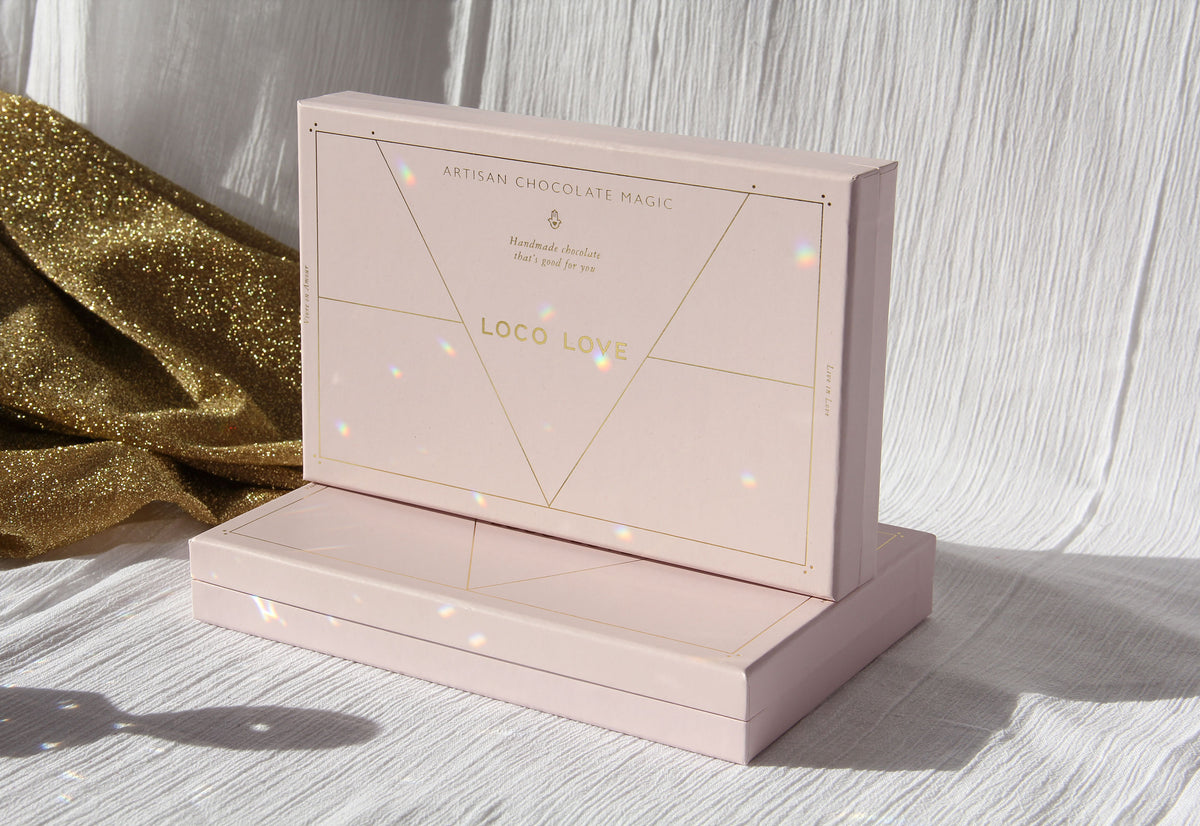 On the Rise
We profile Byron's most budding talent. From high-vibe chocolate to studio sessions with Daft Punk. There's something in the water in Byron Bay.
EMICA + JESSE, LOCO LOVE
Since 2013, former fashion designer turned fashion model, turned nutritionist, Emica Penklis has been changing the way we look at chocolate.
From humble beginnings experimenting in her home kitchen with Cacao, Emica is slowly taking the world by storm. Inspired by her passion for nutrition and self-love, Loco Love chocolates are handcrafted from the finest organic ingredients, vegan, free from refined sugars & gluten, with a selection of superfoods, tonic herbs and healing spices. Basically, it's chocolate that's really good for you.
Since it's rise, Emica & Loco have featured in Vogue, and the brand had Victoria's Secret Angel Allesandra Abrosio, posting her love for the treats on Instagram last year. In 2017, Jesse Lawrence, Emica's loco-lover and more recently - husband, partnered in the growing Loco empire. Emica & Jesse are a two-lover dream team who together handcraft their chocolate daily in Byron Bay.
OLIVE COOKE, MODEL & INFLUENCER
Shot to fame via Instagram, Olive Cooke is surprisingly, no overnight success story.
Originally from Perth, Olive understood the power of social media long before the rest of us caught up. Her infectious smile, down to earth nature and sun-kissed skin has permeated our phone screens since she began blogging way back when and has outlasted many of her kind.
Calling Byron home for four years now, Olive is a force to be reckoned with, proudly working with Tigerlily, Billabong & Peony, just a few of her A-list clients. Olive was recently signed by worldwide talent conglomerate, IMG Models. Not bad for a girl from Perth, who started with just an iPhone and a free spirit. 
PARCELS
Imagine growing up in a small coastal town and starting a band with a few of your school mates, jamming in your parents garage. Fast track a few years later, to your first international gig and the worlds' most iconic dance music producers, Daft Punk are front row and centre in the audience. This is how Parcels were born. 
"A sort of a blend between electro-pop and disco-soul", Parcels consists of former Byron High school students Louie Swain, Patrick Hetherington, Noah Hill, Anatole "Toto" Serret, & Jules Crommelin.
Signed to French label, Kitsuné, Parcels now call Berlin home and are currently touring their debut self-titled album across the US. They continue to produce music with major French duo, Daft Punk. From Jonson Street to the Champs Elysees, it's safe to say these guys have done Byron proud.
MARTA CABRERA, GRAPHIC DESIGNER & PHOTOGRAPHER, BYRON BAY SKINCARE
After leaving home at 17 to study Pharmaceuticals, Marta Cabrera always had an interest in natural & plant-based medicine and cosmetics however has worn many hats on her journey to where she is now.
While working for many years as a pharmacist, Marta's creativity and passion for the arts eventually led her to study photography and complete a Master's in Graphic Design.
Originally from Spain, Marta spent the first 10 years of her career travelling the world, living and working in Italy, France, Mexico and most recently, Australia, now calling Byron Bay home.
After founding and operating a successful natural candle business, Lua Botanicals, Marta transitioned into her current role as Head of Design at Byron Bay Skincare. Working for the conscious company, Marta oversees the entire creative process and her fav Byron Bay Skincare product? "Definitely the Shampoo & Conditioner. They are 100% natural, make my hair look amazing and smell like Peppermint!"