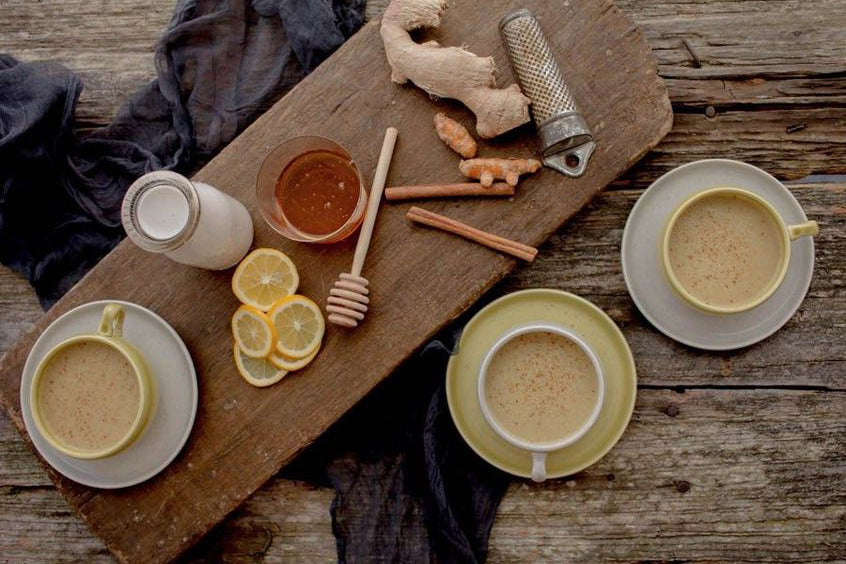 Winter is officially upon us. Research shows the cooler weather can lead to a decrease in our immune system, as well as a decrease in our energy levels. While many of us opt for coffee or tea for an extra boost, too much of these beverages can lead to dehydration (which is bad for your skin!). To help get you through the Winter months we've put together two easy and delicious beverage recipes that are warming, flu-fighting and energy boosting.
Recipe One: Gold Mylk
Golden Mylk is filled with powerful antioxidants and is known for it's many health benefits including - boosting immunity, improving brain function, increasing energy levels, supporting digestion and supporting the liver. Turmeric is also an anti-inflammatory, which is linked to aiding a decrease in anxiety and depression.
How to Make:
2 cups of almond milk (any milk or alternative milk can be used)
1 tsp turmeric ground or freshly grated
1/4 tsp ground ginger
½ tsp cinnamon
Pinch black pepper
Honey or maple syrup to sweeter
1. In a saucepan add almond milk, ground turmeric, ground ginger, cinnamon, black pepper, and sweetener of choice.
2. Whisk to combine and warm over medium heat. Heat until hot to the touch but not boiling (about 4 minutes), while whisking frequently.
3. Turn off heat and taste to adjust flavour. Add more sweetener to taste or more turmeric or ginger for intense spice flavour.
Recipe Two: Spicy Chai Tea
Chai is a fragrant, spicy tea that helps to boost heart health, reduce blood sugar levels, aid digestion and boost the immune system. Cinnamon has been used for centuries in traditional medicine within Asian cultures due to it's beneficial properties in maintaining healthy skin. The magic ingredient has a number of benefits, including improving fine lines, treating acne and blemishes, softening the completion and fighting skin infections. Plus, Clove is known for its high levels of antioxidants that help to reduce redness, prevent bacterial growth and fight the signs of ageing. Sound good? (Definitely). Try our Body Wash + Body Souffle' which contain both of these beneficial skincare ingredients (that also happen to smell exactly like delicious Spicy Chai Tea!).
How to Make:
1 cinnamon stick, broken
1 teaspoon cardamom seeds
1 teaspoon black peppercorns
5 whole cloves
1/2 teaspoon ground nutmeg
2cm piece of fresh ginger, peeled
1/2 cup of water
2 cups coconut milk
Honey or maple syrup to sweeten
1. Add cinnamon, cardamom, peppercorns and clove in a saucepan and toast over low heat for 30 seconds, or until fragrant. Add the water, ginger and nutmeg and bring to the boil. Decrease the heat and simmer for 5 minutes.
2. Pour in the milk and simmer for 5 minutes. Stand for 10 minutes, or until lukewarm.
3. Strain into your mug. Add sweetener to taste.