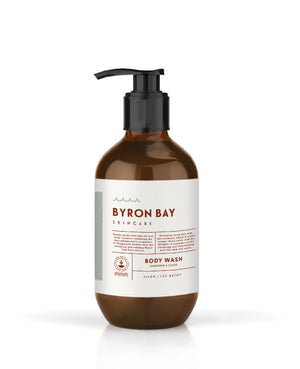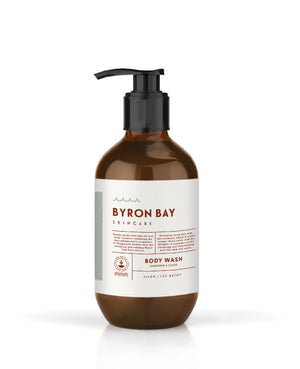 On Sale
Body Wash
With Cinnamon + Clove
$12.00 USD / 200 g
Compare at $12.00
Gently purify the complexion with this all over body cleanser combining the anti-inflammatory properties of Chamomile flowers with the clarifying and refining White Oak Bark extract.Revitalize tired skin with this aromatic, blend of sweet orange citrus notes with the delights of cinnamon oil for cleansing and rejuvenating both the skin and spirit.
What's in the bottle?
Rosemary Leaf
Rosemary Leaf has a large range of beautiful benefits ranging from moisturizing your skin and supporting healthy collagen development to fighting off skin-damaging free radicals. Rosemary Leaf has properties to kill bacteria, fungi and viruses on the skin that helps stimulate cell renewal. It also infuses the skin with moisture and improves skin circulation.
Chamomile flowers
Chamomile extract is used for its anti-inflammatory, antibacterial, and calming properties. Originally used as a muscle relaxant and take orally, this truly unique extract soothes and calms the skin of tension. Perfect for the treatment of skin conditions, especially irritations such as eczema and dermatitis, working to reduce inflammation and itchiness brought on by these conditions.
White Oak Bark
White Oak has a long history of usage for a variety of health conditions and was being used by Native Americans as a remedy for many conditions because of its astringent, antiseptic and anti-inflammatory properties. The astringent action of white oak is good for treating skin conditions such as burns, abrasions and eczema.
Cinnamon Bark
Cinnamon has been used for centuries in traditional medicines in Asian cultures-Chinese and Indian. Among the various benefits which cinnamon offers, one of the most important is its role in maintaining healthy skin. Cinnamon is said to improve fine lines by plumping the skin and helps with treatment of acne and pimples. Cinnamon also reduces signs of aging, softens dry skin, fights skin infections, and improves skin complexion.
Full Ingredients
Aloe Barbadensis Leaf Juice*, Chamomilla Recutita Matricaria (Chamomile) Flower Extract*, Decyl Glucoside, Glycerine*, Xanthan Gum, Coco Glucoside, Glyceryl Oleate, Lonicera Japonica (Honeysuckle) Flower Extract, Lonicera Caprifolium (honeysuckle) Flower Extract, Citrus Sinensis (Orange Sweet) Peel Oil, Eugenia Caryophyllus (Clove) leaf oil, Foeniculum vulgare dulce (Fennel) Oil, Cinnamomum Zeylanicum (Cinnamon) Bark,Elettaria cardamomum (Cardamom) Oil, Piper nigrum (Black Pepper) Oil, Glycyrrhiza glabra (Licorice) Extract, Rosmarinus Officinalis (Rosemary) Leaf Oil*, Althaea Officinalis (Marshmallow) Root Extract, Calendula Officinalis (Calendula) Flower Extract*, Quercus Alba (White Oak) Bark Extract *, Rosmarinus Officinalis (Rosemary) Leaf Extract, Limonene, Linalool, Eugenol. *Certified Organic
frequently asked questions
Yes, all the Byron Bay Body products have the pH range of 4.5-5.8 which is similar to the natural pH skin of the skin
Yes, all our products are made with natural & some organic ingredients so they can be used by children. Please be aware that due to essential oils in the formulas they are not suited to be used around the eye area.
Our products are not made with any harmful ingredients that could irritate certain skin conditions. However, people with skin conditions should be careful with everything they put on their skin. We recommend to complete a patch test on the skin (behind the ear or a small part of the irritated skin) before using the products.
Byron Bay Skincare's Body Creme has a high concentration of oils and butters. It is the perfect choice for dry and dehydrated skin.
Yes all our products are soap free including our Hand Wash and Body Wash. This ensures they are more suitable for sensitive skin.