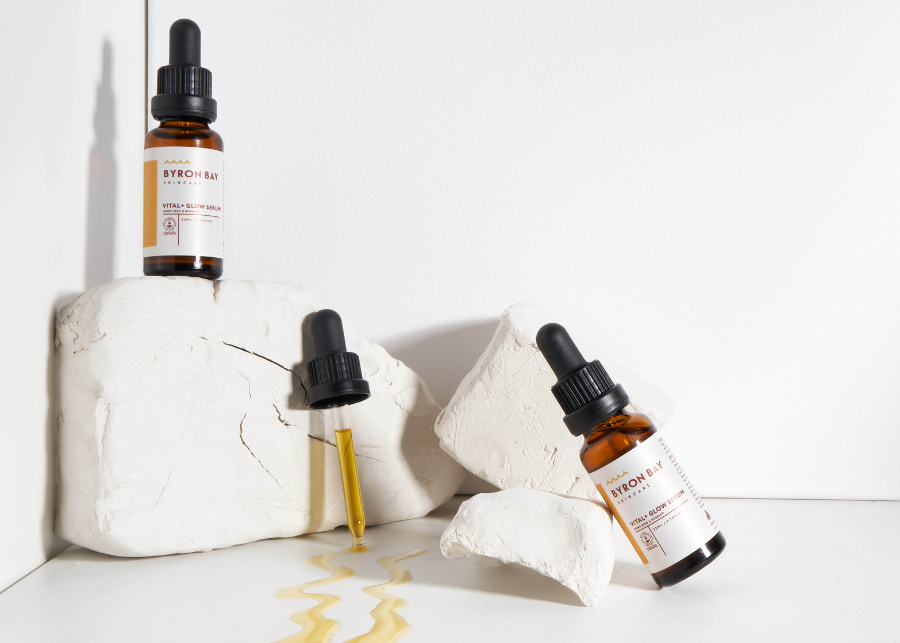 We're proud as punch to introduce our newest creation - Vital+ Glow Serum.
This golden, ultra-hydrating serum combines native plant extracts and oils to rejuvenate and nourish the skin.
Oils are king for hydration!
We all know that the secret to glowing, dewy skin is hydration, hydration, hydration! And oils are amazing for delivering a powerful hit!
Vital+ Glow Serum star's two skin hero ingredients, Rosehip Oil and Hemp Seed Oil!
Rosehip Oil is pressed from the fruit and seeds of the rose plant. Since ancient times people have prized it for its valuable healing benefits. It's loaded with skin-nourishing vitamins and essential fatty acids that keep cell walls strong, improving your skin's barrier function. Rosehip Oil is the go-to for skin healing, environmental skin damage, cell regeneration, and hydration.
Hemp Seed Oil is derived from pressing the seeds of the hemp plant. Not to be confused with CBD Oil. It's high in antioxidants and Vitamins A, C, E and F. This reduces inflammation, keeps skin looking and feeling firmer and reduces the appearance of fine lines and wrinkles. Plus, Hemp Seed Oil helps your skin regulate sebum production without clogging pores.
Face oils are a highly efficient way of giving your skin that surge of moisture it's craving. Consider the Vital+ Glow Serum with Hemp Seed and Rosehip a glow-up in a bottle.
Gently press 1-2 drops of Vital+ Glow Serum over the face and neck, morning and night, underneath your chosen Byron Bay Skincare Moisturiser for a dewy complexion.