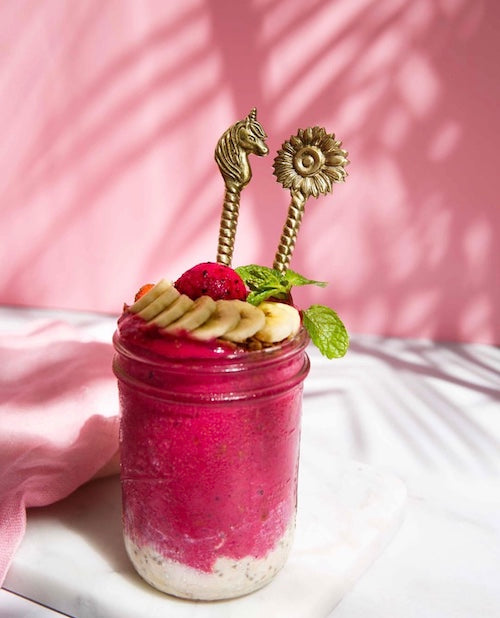 Springtime is right around the corner, which means so is smoothie season! 
Smoothies are not only refreshing and delicious, but they are also the easiest way to incorporate lots of antioxidants and nutrients into your day. 
We will explore a range of different smoothies high in nutrients, which are the foundations for healthy and glowing skin.
Recipe: Balinese Dragon Smoothie 
Full of active antioxidants dragon fruit is giving acai berries a run for their money! This smoothie will help to brighten and detoxify the skin. Dragon fruit contains vitamin C which inhibits melanin production in the skin making it the ultimate brightening ingredient - helping to lighten pigmentation and brown spots and enhance your natural radiance. Spirulina contains high concentrations of chlorophyll (the green pigment found in plants) making it one of the most potent cleansing foods found in nature. Hello clear skin, we see you! 
It all starts with the gut. Bacteria affects everything about our health, which includes our biggest organ (the skin!). This smoothie combines gut cleansing kombucha with collagen synthesising pineapple. Kombucha is rich in beneficial probiotics which provide your gut with healthy bacteria. Pineapple has collagen synthesising properties, which help to combat the ageing process and makes skin smooth, firm and flexible.
Recipe: Coconut Tumeric Smoothie
Seeing as travel is off the cards for a while, transport your senses to a tropical island and get your 'glow on' from within. This smoothie is packed with coconut oil, turmeric and chia seeds which are all known to keep your complexion glowing! Tumeric has anti-inflammatory qualities targeting the pores and calming the skin while the combination of coconut oil and chia seeds will assist your body in producing collagen.
In times of uncertainty, stress arises. Stress causes your body to make hormones like cortisol, which tells glands in your skin to make more oil causing breakouts. This smoothie contains reishi and blueberries. The adaptogenic properties present in Reishi extract actually help to reduce stress while blueberries help to balance hormones and neutralise oil production in your skin. A double win for stressed skin.
Recipe: Wrinkle Fighting Kale Smoothie 
Packed with kale, coconut water, brazil nuts and purpose this smoothie means business. Kale has Vitamins A, D, K which are said to help tighten pores and reduce the appearance of dark circles. Coconut water is high in potassium which can help to keep the skin cells hydrated and moisturized. Brazil nuts are one of the best sources of selenium which can help improve skins elasticity. A smoothie that packs a punch! 
Ready to nourish your skin from within? Be sure to check out these recipes but also don't be scared to get creative with it!  Just make sure your ingredients are super fresh and you've got variety and colour.  Yum!
Maintain your skin with nature's best, inside and out. Click here to explore Byron Bay Skincare to further nourish your skin and unlock your natural beauty.