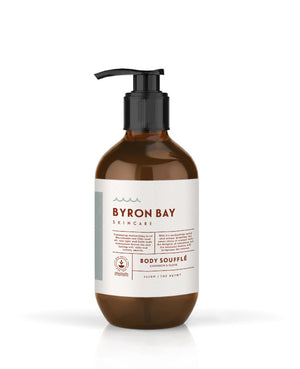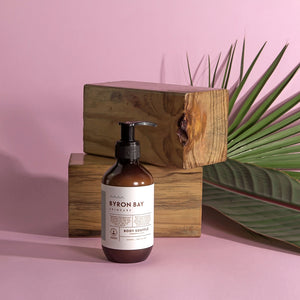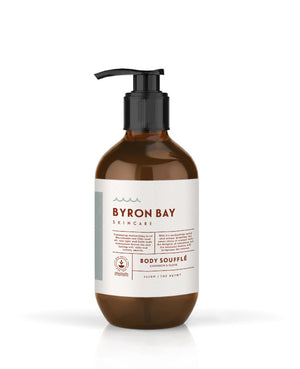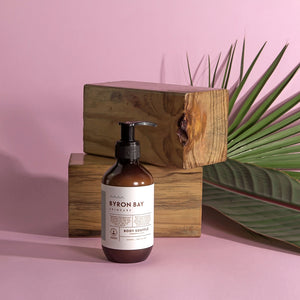 On Sale
Body Soufflé
With Cinnamon + Clove
$13.00 USD / 200 g
Compare at $13.00
Combining replenishing local Macadamia and Chia seed oils, this light and fluffy body moisturiser leaves the skin feeling soft, silky and velvety smooth. With it's enchanting spicy chai aroma, combining the sweet citrus notes of orange with the delights of cinnamon oil, the sensuous blend will invigorate the senses.
What's in the bottle?
Chia Seed Oil
Derived from the desert plant Salvia hispanica, Chia Seeds offer the highest combined plant source of omega-3, fibre and protein, alongside a range of vitamins, minerals and antioxidants. Chia Seeds contain molecules with anti-inflammatory properties that help the prevention of wrinkles and also give your skin a powerful antioxidant boost to fight the dreaded signs of aging.
Macadamia
Naturally rich in palmitoleic acid, Macadamia oil is very skin compatible. The oil is close in structure to the skin's natural oils and is therefore readily absorbs into the skin, increasing skin elasticity and suppleness.
Liquorice Root
Licorice extract has been used for its health benefits as far back as ancient China, which promotes skin elasticity, fight inflammation and wrinkle formation and has been known to fade dark spots and blemishes. Potent antioxidants in licorice extract fight skin-damaging free radicals which helps regulate the skin's natural oil production.
Jojoba Oil
Jojoba Oil will not only firm-up and keep your skin hydrated, but also useful in lessening the appearance of skin wrinkles. It is packed with vitamin E, which is effective in getting rid of free radicals that are responsible for aging of skin. Jojoba also contains iodine, which helps fight harmful bacteria growth that causes pimples, blackheads, and breakouts.
Full Ingredients
Aloe Barbadensis Leaf Juice*, Calendula Officinalis Flower Extract*, Olea Europaea (Olive) Leaf Extract*, Macadamia integrifolia (Macadamia) Nut Oil, Cetyl Alcohol, Stearic Acid, Glyceryl Stearate, Glycerine*, Potassium Cetyl Phosphate, Simmondsia Chinensis (Jojoba) Seed Oil*, Glycyrrhiza Glabra (Liquorice) Root Extract, Tocopherol, Callitris glaucophylla (White Cypress) Extract*, Salvia Hispanica (Chia) Seed Oil*, Lonicera Caprifolium (Honeysuckle) Flower Extract, Citrus Aurantium Dulcis (Orange) Oil, Cinnamomum Zeylanicum (Cinnamon) Bark Oil, Lonicera Japonica (Honeysuckle) Flower Extract, Eugenia Caryophyllus (Clove) Leaf Oil, Foeniculum vulgare dulce (Fennel) Oil, Piper nigrum (Black Pepper) Oil, Xanthan Gum, Eugenol, Linalool, Limonene. *Certified Organic