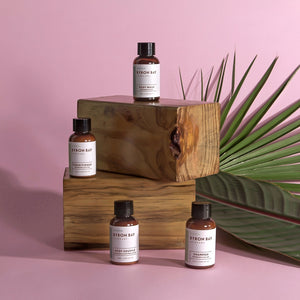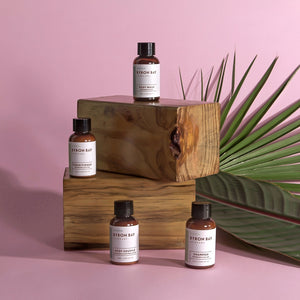 On Sale
Byron Travel Essentials 140gms
With Aloe Vera + Cocoa Butter
$8.00 USD / 140 g
Contains
Herbal Shampoo 35gm
Herbal Conditioner 35gm
Body Souffle 35gm
Body Wash 35gm
This pack is the perfect travel essential or trial kit to indulge in Byron bliss. These products are formulated to replenish and hydrate - so you can enjoy the sun, enjoy the salt and maintain healthy skin & hair wherever you are in the world.
frequently asked questions
Yes, all the Byron Bay Body products have the pH range of 4.5-5.8 which is similar to the natural pH skin of the skin
Yes, all our products are made with natural & some organic ingredients so they can be used by children. Please be aware that due to essential oils in the formulas they are not suited to be used around the eye area.
Our products are not made with any harmful ingredients that could irritate certain skin conditions. However, people with skin conditions should be careful with everything they put on their skin. We recommend to complete a patch test on the skin (behind the ear or a small part of the irritated skin) before using the products.
Byron Bay Skincare's Body Creme has a high concentration of oils and butters. It is the perfect choice for dry and dehydrated skin.
Yes all our products are soap free including our Hand Wash and Body Wash. This ensures they are more suitable for sensitive skin.