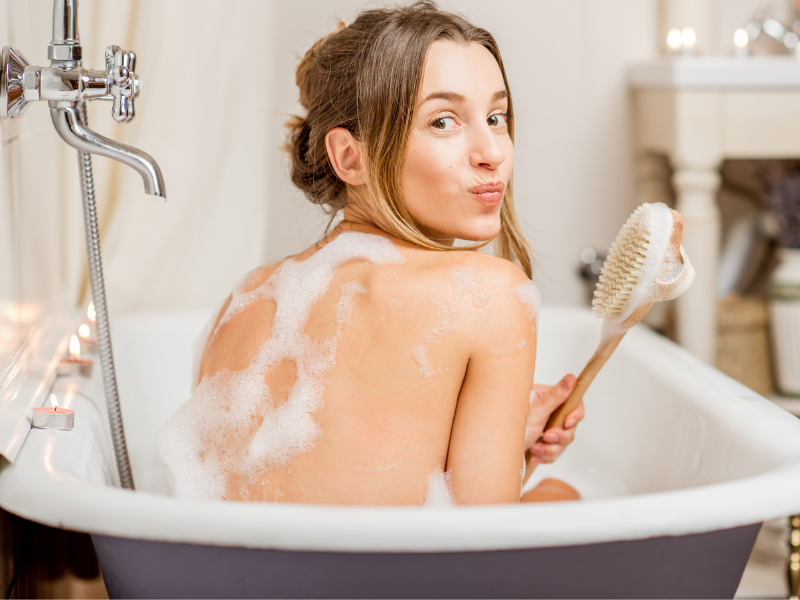 Self-care is like giving yourself a big ol' bear hug - it's essential for living your best life! It's not just about treating yourself to a fancy spa day, it's about making sure you're taking care of both your body and mind. We know life can get super hectic, and sometimes body care takes a backseat to everything else going on. But trust us, taking a little time to nurture yourself can make a huge difference in how you feel overall. So without further ado, here are some ways to take some time out and give your skin, body and mind the TLC it needs.
Benefits of Body Care
When it comes to feeling good, one of the best things about caring for your body is that it's a form of self-care. By taking the time to treat your body well, you can actually help yourself feel more relaxed and calm, which is great for reducing stress and improving your overall mood.
Taking care of your body is super important for feeling good both inside and out. When we keep our skin healthy, it can really boost our confidence and make us feel awesome. So, making sure to stay hydrated to prevent dryness and irritation is key. And, exfoliating is a great way to get rid of dead skin cells and improve circulation, which leaves your skin feeling refreshed and looking great. 
Did you know that your beauty routine can actually be a way to reduce anxiety? Yeah, it's true! When we engage with our senses of touch, smell, and sight while we're doing our routine, it can be super calming and help us feel more grounded. So, taking care of yourself can actually feel like a relaxing, self-soothing ritual. Pretty cool, huh?
Food, Exercise, and Body Products
To care for your body, you need to take a holistic approach. This means considering all aspects of your lifestyle, including your diet, exercise, and body care products.
When it comes to food, eating a balanced diet is essential for maintaining good health. Eating plenty of fruits and vegetables, lean proteins, and healthy fats can help to keep your skin and hair healthy. In addition, these foods are also beneficial for overall health and well-being.
Exercise is also an important aspect of maintaining good health. Regular exercise helps to improve circulation, which can keep your skin looking and feeling refreshed. It also helps to maintain a healthy weight, improves cardiovascular health, and can help to reduce stress.
Finally, using the right body products is essential for keeping your skin and hair healthy. This includes using products that are appropriate for your skin type, and that are free of harsh chemicals or irritants. Finding the right products for you may take some trial and error, but it is worth the effort to have healthy, glowing skin and hair.
One of the best ways to care for your body is to use natural and plant-derived products. These products are free from harsh chemicals and are designed to nourish and protect your skin.
Enjoy the Botanical Experience
Here at Byron Bay Skincare, we create natural and plant-derived body products that are designed to nourish and protect your skin. We use the finest quality botanical ingredients and are free from harsh chemicals.
One of the newest additions to our body range is the 500ml Botanical Wash. This product will gently cleanse your skin and leave it feeling refreshed and hydrated.  Combined with Certified Organic Aloe Vera Leaf Juice and Hibiscus Flower Extract, you'll feel hydrated, nourished and revitalised for longer. 
Also worth checking out, is our Body Cream and a Body Souffle, both designed to moisturise and nourish your skin. We also have the Instant Relief, which is formulated with calming Aloe Vera and Chamomile Flower Extract, that works as an active healing gel that helps soothe and return lost moisture to sun damaged or irritated skin.
Why Use Natural Products for Body Care?
Using natural and plant-derived products has many benefits. Some of the most notable benefits include:
Nourishment: Think of natural and plant-derived products as a fancy salad for your skin and hair. They're packed with vitamins, minerals, and antioxidants that keep your skin and hair looking and feeling their best. Plus, they're chock-full of the nutrients your skin craves to stay healthy and radiant.
Chemical-free: Feel good knowing the products you're using on your skin is derived from our earth, so there's no bad stuff, no harsh chemicals for you, just pure and natural goodness!
Eco-friendly: Natural and plant-derived products are like the superheroes of skincare. They use sustainable and biodegradable ingredients that are gentle on the earth. Plus, they come from natural sources, so they won't leave a negative impact on the environment.
Cruelty-free: These products are not only good for you, but they're also good for the animals. They're never tested on animals, so you can feel good about your purchase. It's a win-win for everyone!
Who says body care has to be a chore? 
Make your daily bathroom routine super simple and fun. A few minutes each day to pamper yourself incorporating products that are easy to use will set you up towards taking care of your skin the right way. 
Discover our body range perfect for everyday use made from plant-based botanicals and aromatic essential oils to gently cleanse, exfoliate, and moisturise the body from top to toe.